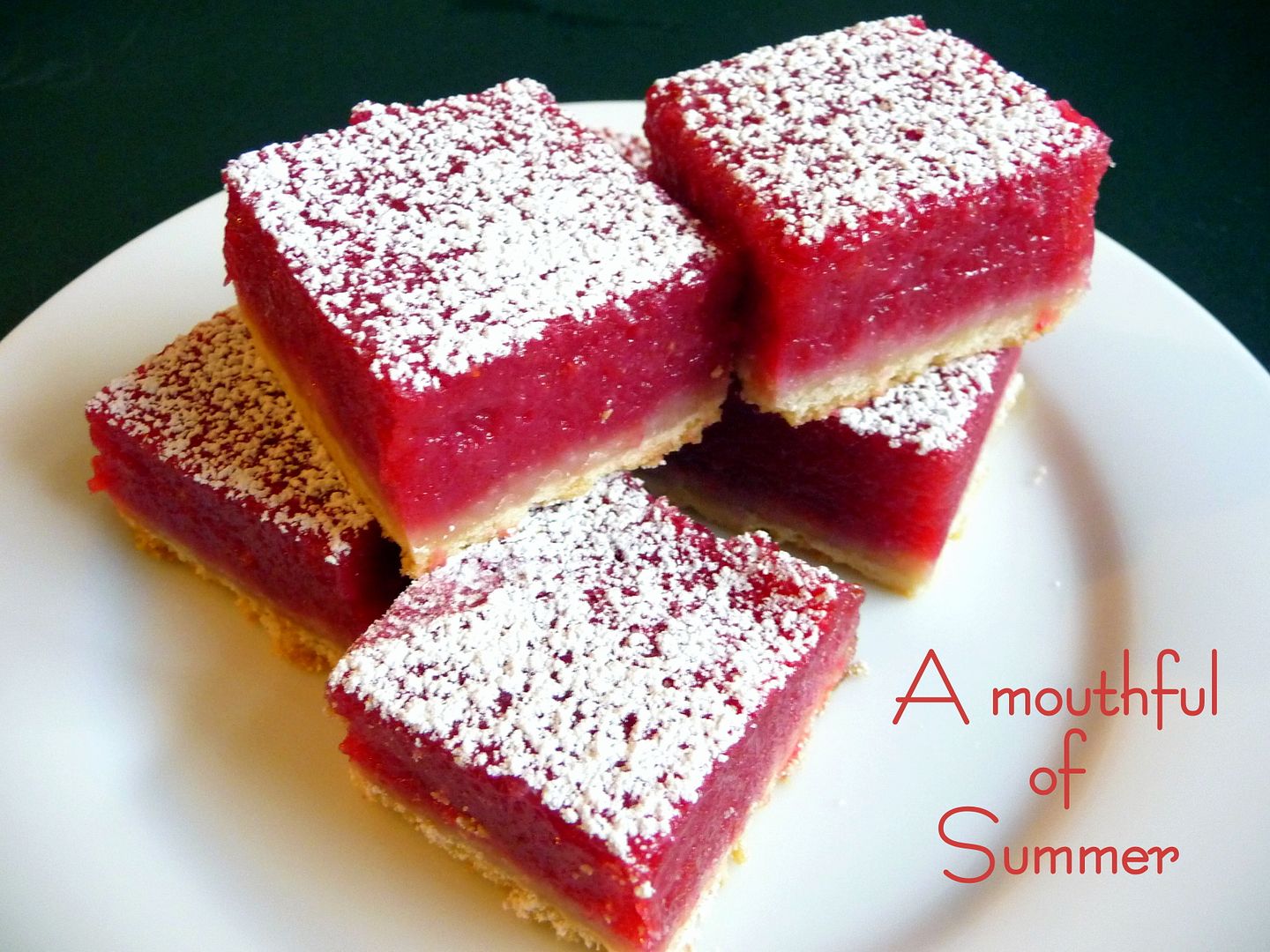 I think this picture says it all. In fact there just isn't much else to say. I know when I saw this recipe I just wanted to reach into the screen and grab one. Wouldn't that be nice - if we could just grab something off the screen that we like. Maybe someday...one can dream, about food that is!
We had plans to go whitewater rafting and I thought it would be nice to take something sweet for our picnic. This was to eat before the crazy water journey that made my "back end" so sore I could hardly sit down. It sounds crazy. You're sitting or should I say "holding onto the rubber raft for dear life" with every muscle in your body. And yes they are rubber, so you'd think it would be nice and soft. It's not! I know I have plenty of padding but after 4 hours of repeatedly bouncing on hard rubber, you get the picture. Sorry - probably TMI.
The good news is that we had a great time and these bars did ease some of the pain.
Anyway, back to something sweet. I found this super summery recipe online at a blog called Sophistimom and couldn't resist trying them. Please don't judge my photos next to hers. As you can see, I'm still a beginner...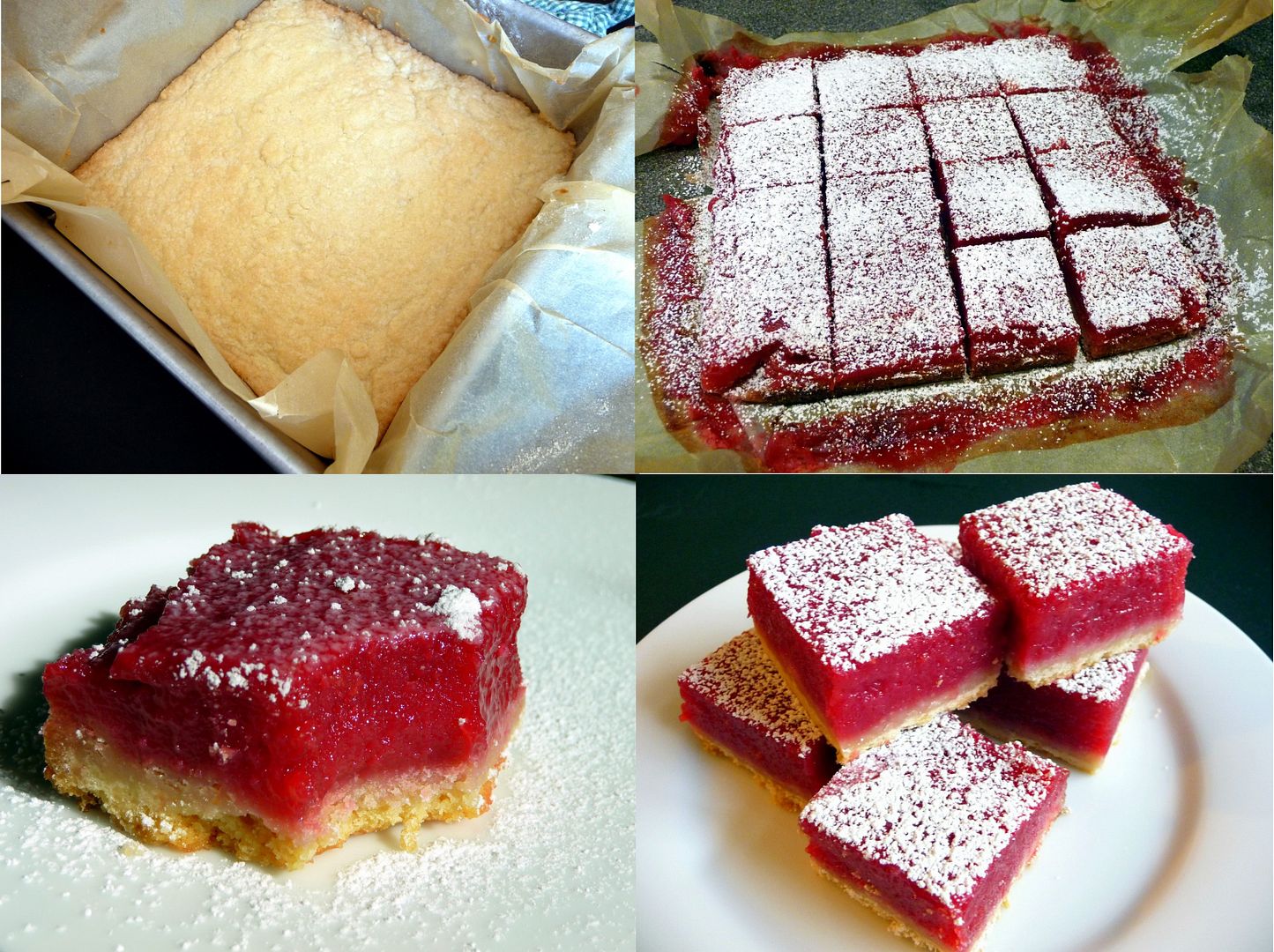 Raspberry Lemonade Bars

Crust ingredients:
9 tablespoons unsalted butter (1 stick, plus one tablespoon)
1/4 cup sugar
1 cup unbleached all-purpose flour
Pinch salt
Filling ingredients:
1 1/2 cups superfine sugar (or regular granulated)
3 egg whites
1 egg
2/3 cup lemon juice (from 3 lemons)
2 tablespoons lemon zest (from 2 lemons)
2/3 cup unbleached, all-purpose flour
Pinch of salt
1-2 cups of frozen raspberries, defrosted
1 tablespoon confectioner's sugar
Preheat oven to 350 degrees. Line a 8×8" square baking pan with about 8x14" of parchment paper, or foil if you don't have parchment. It should cover the bottom and overlap on either side. This way you can easily pull the entire pan of bars out of the pan and cut them neatly. Or you can just cut them in the pan if you want to dive in when their cool enough to eat. If you do leave them in the pan, no need to butter it.
Cream butter, sugar, and salt with an electric mixer. Mix in flour until just incorporated. With floured hands, press dough into 8×8″ square baking pan so that it comes up about a 1/2" around the sides. Bake for 20-25 minutes, or until slightly golden brown. While it cools, prepare the filling

.
Whisk sugar, egg whites, egg, lemon juice, zest, flour and salt in a large bowl. Pour raspberries into a sieve and press through to extract all the pulp and juices. Whisk into lemon mixture and pour into crust. Bake for 30-35 minutes until filling is completely set. Let cool completely. You can put them in the freezer for about an hour if you're impatient like me. Using the overlapping edges of the parchment paper, gently lift the dessert from the pan. Cut into 16 squares. Dust with confectioner's sugar. They're rich but yummy!
Adapted from Sophistimom
Print recipe