I'm back. I know I said that my last posting would be it until January but our flight to London was canceled due to bad weather. On to plan b. We have rescheduled our flight but with the state of the airports, I'm not getting my hopes up too high. Lucky for me and you, I am now able to share with you a really good cookie recipe.
I knew when I saw this recipe, these would be good, especially with the caramel. But, I didn't know they would be so good, that I would have a hard time not eating them. I have a weakness for cookies though so that's not saying much. These cookies are chocolaty, nutty, chewy and will satisfy any sweet tooth.
I added some chocolate chips to make them really chocolaty and some espresso powder, which I think intensifies the chocolate flavor.
Our freezer is full of cookies this year. Between a girls cookie party and me experimenting on my own, we have lots of cookies. Too bad I can't share them with you all.
These are what I call high maintenance cookies in that they don't transport well unless you lay them in one layer and keep them flat. I think they're worth it though. Just make sure you're not alone with them in your kitchen or I can't be responsible for what might happen. :-)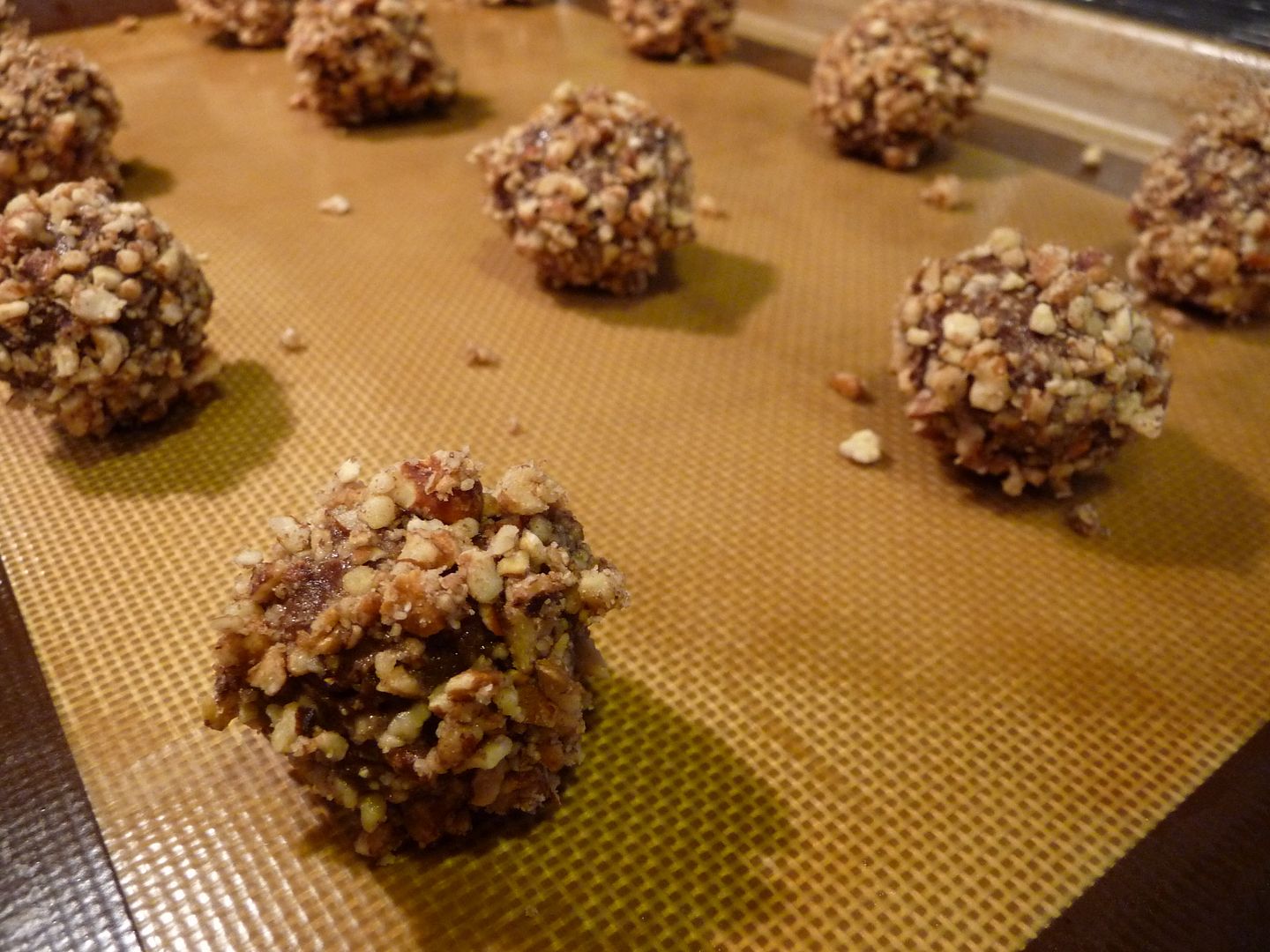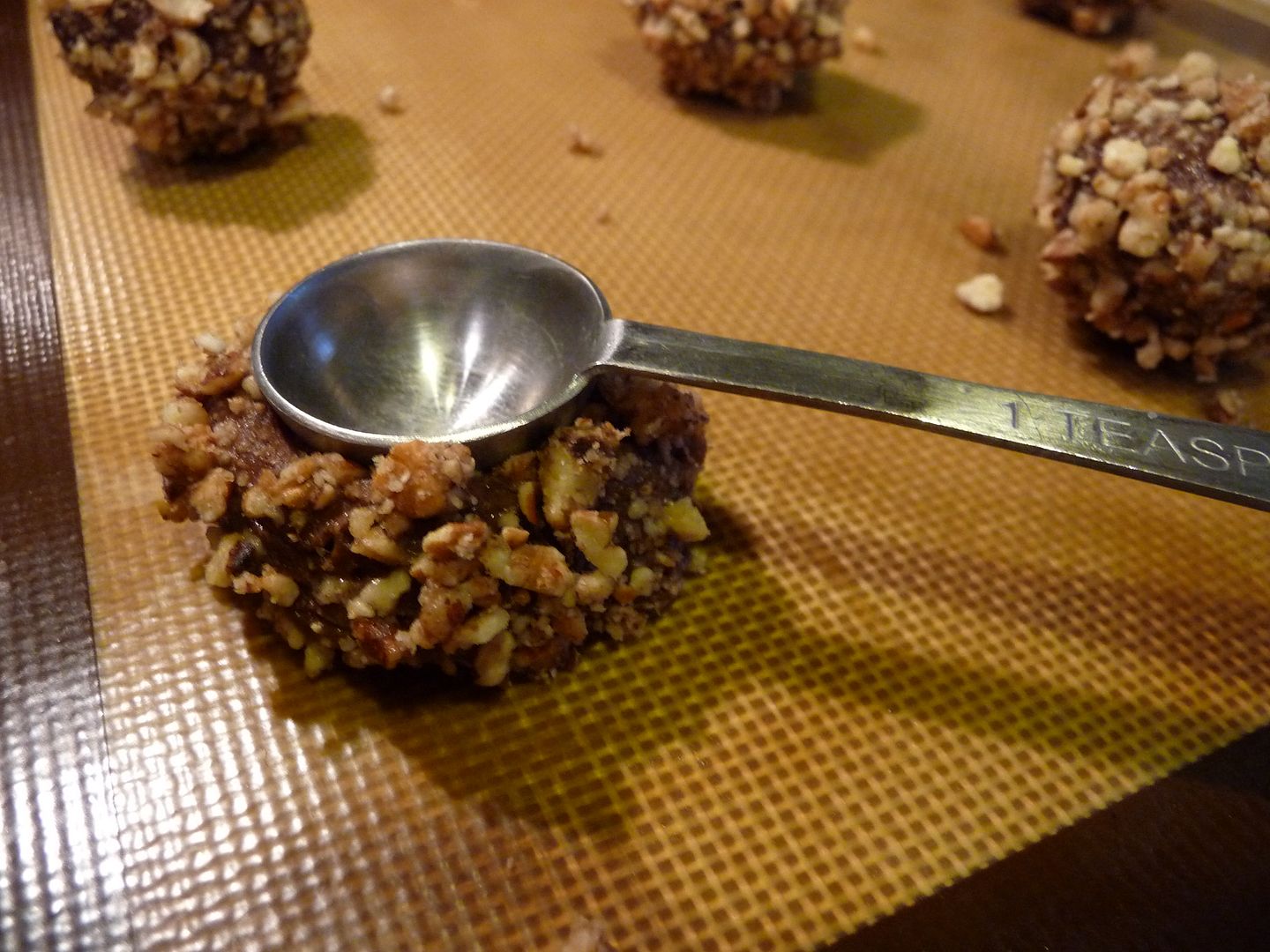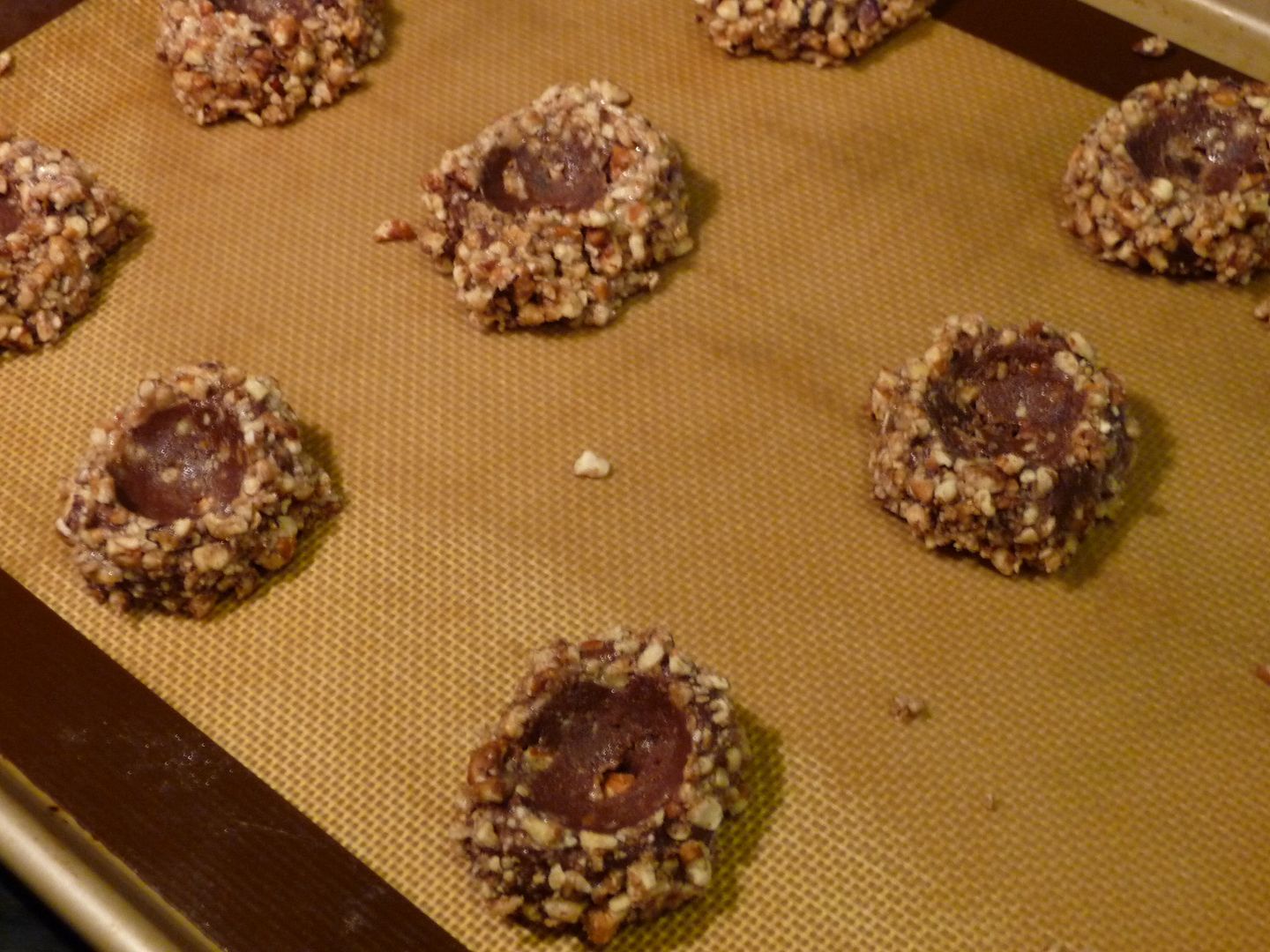 Chocolate Turtle Cookies
1/3 cup unsweetened cocoa powder
8 tablespoons unsalted butter, softened
1 large egg, separated, plus 1 egg white
1 teaspoon vanilla extract
1 teaspoon instant espresso powder
1/2 cup chocolate chips (I used semi-sweet)
1 1/4 cups pecans, chopped fine (I used a 1 lb. bag of chopped pecans from Trader Joe's)
3 tablespoons heavy cream
Combine flour, cocoa, and salt in a bowl. In a separate bowl, beat butter and sugar until light and fluffy, about 2 minutes. Add egg yolk, milk, espresso powder and vanilla and mix well. Add flour a bit at a time, slowly. Add chocolate chips and mix until just combined. Wrap dough in plastic wrap and refrigerate until firm, at least an hour.
Heat oven to 350 degrees. Spray or line a cooking sheet. Add egg whites to a bowl and mix until frothy. Place chopped pecans in another bowl. In your hand, roll dough into 1 inch balls, dip in egg white and then roll in the nuts. Place on the baking sheet (12 per sheet). With a 1 teaspoon measuring spoon, make an indentation in each cookie to form a well in the middle. Bake about 12 minutes, rotating sheets halfway through baking.
Add caramels and cream to a bowl and microwave 30 seconds at a time until mixable. Remove to a wire rack and fill each well with a teaspoon of caramel sauce. Let cool completely. Makes 2 1/2 dozen.
Adapted from America's Test Kitchen