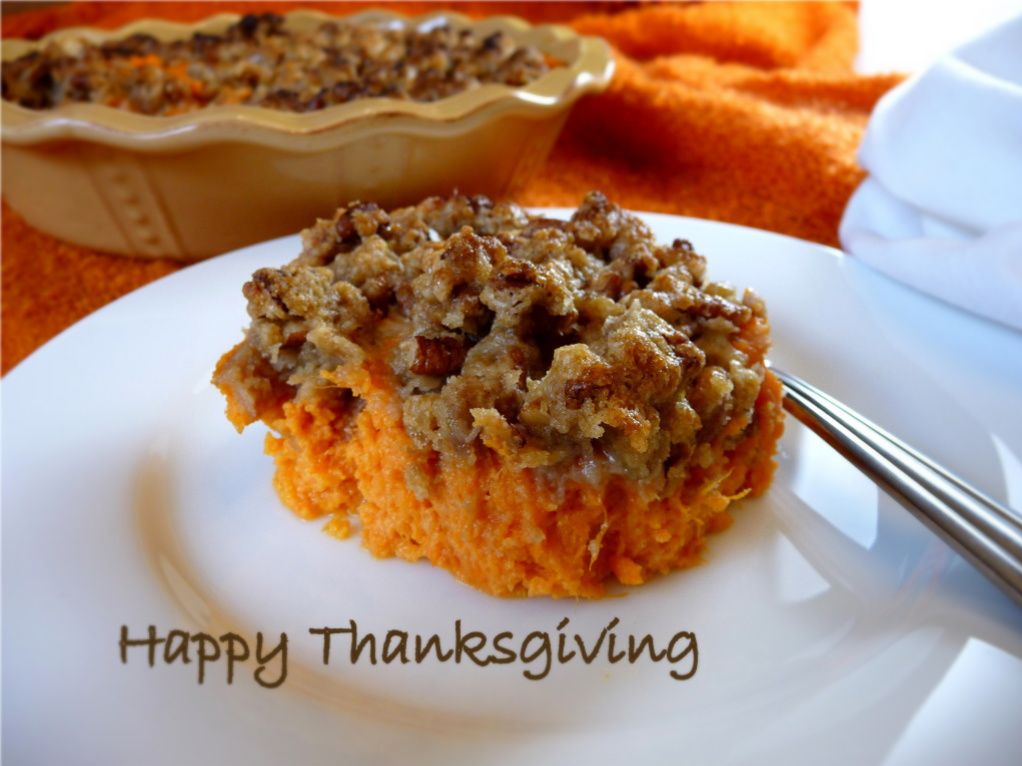 I know, some of you probably don't like sweet potatoes. I wasn't a big fan either but then I tried this recipe and I'm a fan now - a big one. Even my husband, who wouldn't get near them with a 10 foot pole before, will eat these. The problem with this dish is that at Thanksgiving there is so much to eat and you never really get your fill of it. I recommend you make this and enjoy a bowl of it just on it's own. That's how good it is. That's what I did for lunch today. I enjoyed a nice helping of this casserole. You could say it's almost like dessert and depending on how much sugar you add, it probably should be. I cut back a bit on the sugar and didn't miss it. In fact, I felt less guilty eating it now.
This holiday we're headed to Southern California for Thanksgiving. My parents live there and my brother and his family are visiting from Oregon so it will be a fun few days catching up and eating good food. This casserole is usually on our table at Thanksgiving. As with most families, we have our customary favorites and it just wouldn't be the same without them...especially the leftovers.
For the sweet potatoes, I baked them but you can boil them on the stove like you do when making mash potatoes. If you bake them, just wash, poke some holes in them and place them on a baking sheet. I set my oven at 375 degrees and tested them at an hour. If the knife goes in really easily they're done. If not, leave them in and check on them every 15 minutes or so. I just think they come out even sweeter when baked. Let them cool, peel the skin off and then mash them up with a fork or throw it all in the food processor (minus the skins).
Sweet Potato Casserole
Topping:

1/2 Cup Brown Sugar (if you like it sweeter, add another 1/2 cup)
1/2 Cup Flour
1 Cup chopped pecans
1/3 Stick Butter, melted

Sweet Potato Mixture:
3 Cups Mashed Sweet Potatoes (about 4 sweet potatoes)
1/2 cup sugar (add an extra 1/2 cup if like it sweeter)
1/2 teaspoon salt
2 teaspoon vanilla
2 eggs, beaten
1/2 cup half and half (or evaporated milk)
4 tablespoons melted butter
For the topping, combine the brown sugar, flour, nuts and melted butter in a mixing bowl and mix until combined and crumbly.
Preheat your oven to 350 degrees. Combine the sweet potatoes, sugar, salt, vanilla, eggs, milk and butter in a mixing bowl and mix well (You could also do this in the food processor instead of mashing your sweet potatoes). Pour the sweet potato mixture into a buttered baking dish. Sprinkle the top with the nut mixture. Bake for 30 minutes. It's best if you let it sit for 30 minutes before serving. Serves 8.
Print Recipe