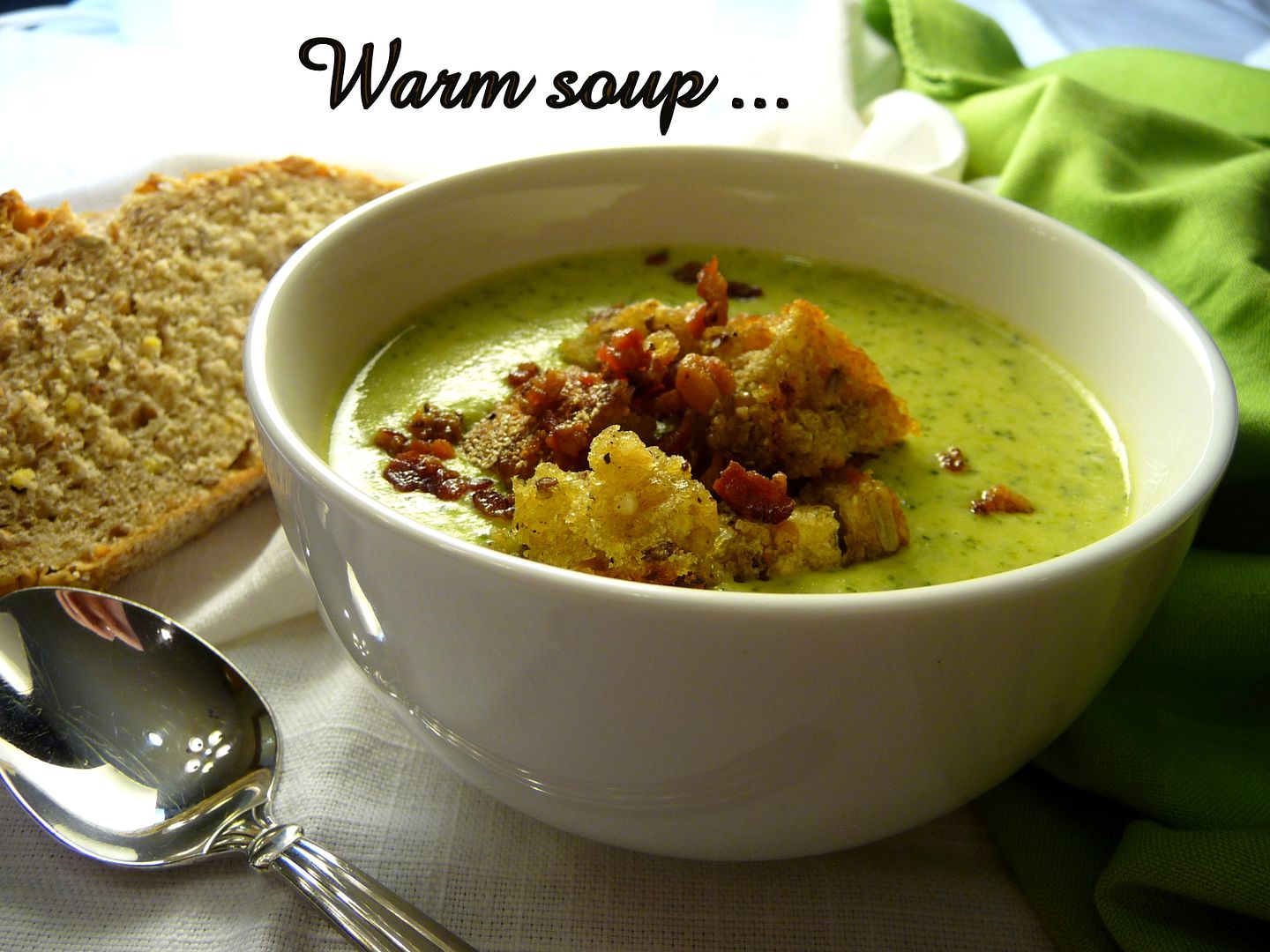 You know it's warm outside when you work up a sweat just making the bed. We are definitely living in warm and sunny California. We went from having freezing temperatures to 70 degree weather. I shouldn't be complaining as I know most of you would spend lots of money on a family vacation for this kind of weather. It's nice for a day or two but I like my seasons. Maybe because growing up, I spent a lot of time on the East coast. It's February so it's supposed to be cold. It's an excuse to snuggle up with a good book and enjoy a nice bowl of warm soup. I decided to pretend it's cold outside and whip up some easy but yummy soup to go with our 70 degree weather. We just turned up the air conditioner and the ceiling fans and recreated the wintry setting (no, not really). :)
This soup is easy and quick with lots of flavor from the cheese. As with most of my recipes, you can tweak them as you need to and they'll still be good. If you want something different than your usual steamed broccoli this is a nice change and is good alone or with some bread, crackers or even a salad. Make sure you season with salt and pepper as you go - each layer. This way, every dish you make will have great flavor!
2 heads broccoli, cleaned and cut up
1 1/2 quarts chicken stock/broth
1/2 cup cheddar cheese, shredded
Garlic Croutons (optional recipe below)
In a large saucepan, add 1 quart of chicken broth/stock, garlic cloves, broccoli, salt and pepper. Bring to a simmer. Cook until broccoli is tender. Add cream cheese and let it melt. In a blender or with an immersion blender, blend soup. Add cheddar cheese. Add additional stock/broth to get desired consistency. Stir until combined. Season with salt and pepper to taste. Garnish with bacon and croutons. Serves 4.
1/2 loaf crusty bread, cut into 1 inch cubes
Over medium heat, add olive oil to a saute pan. When hot, add garlic and cubed bread and stir to combine well. Let breadcrumbs get toasty and brown stirring often so they don't burn.
Print Recipe