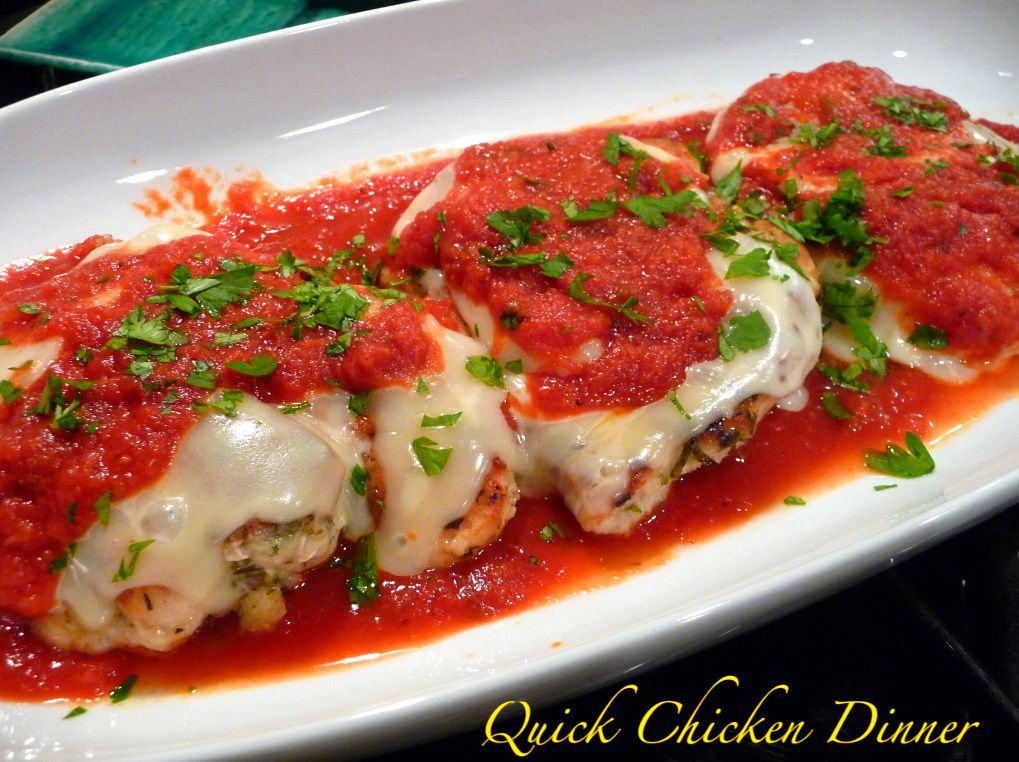 I'm sitting on the couch, nursing a cold. My husband has a bad movie on. At least he is cooking dinner so I can't complain. I have a hard time though not going into the kitchen to see how things are going. It's his time and he likes to do things his way. He usually cooks a good meal but it does take a while. I expect we won't be eating for at least another hour if not two.
I haven't been sick in a long time. Of course it's like 70 degrees outside today and all I wanted to do was lay on the couch. It's probably good for me to chill for a day. It's not often that I lay around, catch up on all my shows on the DVR, read and nap. Sounds rough, huh.
Here is an easy chicken parmesan recipe that you and your family can enjoy any weeknight. You can serve it with pasta or just a salad. To shorten the cooking time of the chicken, I cut them in half by taking a not quite thawed breast and with the palm of my hand on top of the breast, I slice it in half. You can also put a piece of plastic wrap on top of a breast and pound it thin, trying to make it a uniform thickness throughout, with a heavy pan or a meat mallet. If you prefer not to do this, just cook your chicken longer.
Quick Chicken Parmesan
1 lb. chicken breasts, cut in half or pounded thin
Thick slices of mozzerella cheese to cover each breast
1/4-1/2 cup grated parmesan cheese
Tomato Sauce (see recipe below) or you can buy a canned pasta sauce
Easy Tomato Sauce
2 garlic cloves, chopped finely
1 14.5 oz can diced tomatoes with garlic, basic and oregano
2 tablespoons tomato paste
1/4 cup chopped basil, optional
In a saucepan over medium heat, add olive oil. When hot, add garlic and let cook for a few minutes, stirring so it doesn't burn. Add can of tomatoes and tomato paste, salt and pepper. Stir to combine and turn heat down to low. Let simmer about 10 minutes. Add basil and turn heat to lowest setting to keep sauce warm.
Preheat oven to 375 degrees. For chicken, season both sides with salt and pepper. Add olive oil to oven friendly frying pan and when hot, add chicken to pan. Give them plenty of space so they'll brown. After both sides are brown but not cooked through, add a spoonful of sauce to each chicken breast. Place pan in oven and cook another 10 minutes. Remove from oven and check to see if chicken is no longer pink. If still pink, place in oven for another 5-10 minutes. When done, add a slice of mozzerella cheese and parmesan cheese to each breast and place in the oven until cheese has melted. When cheese is melted, remove pan from oven, sprinkle with basil and serve. Extra sauce can be served on the side. Serves 4.
Print Recipe