Two True Foodies turned a year old last week. It's hard to believe. If you're a follower or just checking us out, we want to stay thank you. We love bringing you our favorite recipes in hopes that you'll cook more and share your special creations with family and friends. The best part is when we hear you are cooking or baking one of our recipes. I can't say I don't hold my breath and cross my fingers that they'll turn out for you and that you'll love them as much as we do. Here's to another year of TTF.
One of my favorite things are caramelized onions. Surprisingly, I cook them a lot. I put them on salads all the time. They really make an ordinary salad, really special. I also love putting them on steak. There are so many things you can do with them. To save time, let them cook away while you're preparing the rest of the meal. After 15-20 minutes, you'll have golden, sweet onions, full of flavor. Even if you're not a big fan of onions, you'll love them cooked this way.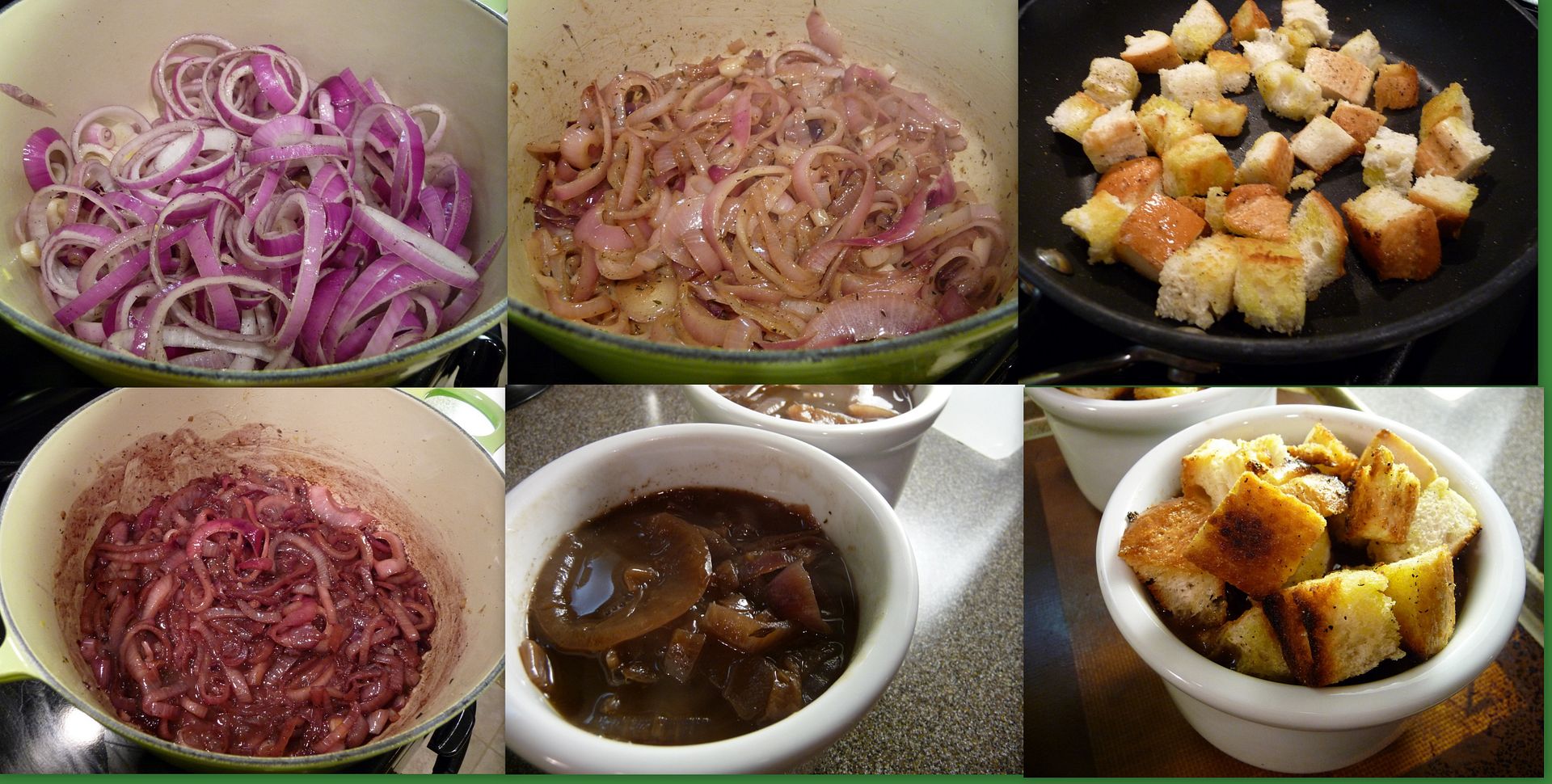 One of the most known caramelized onion recipes is French Onion Soup. It is such a rich, flavorful soup. You get the sweet onions, the gooey melted cheese and bread, soaked in a rich dark broth. It's definitely hardy enough to be a meal in itself. Here is a simple recipe for a delicious french onion soup. Warm your soul and cook for someone special in your life.
French Onion Soup
3 large red onions, peeled and thinly sliced
2 teaspoons chopped fresh thyme or 1 teaspoon dried
1/2 cup dry red wine (the remaining wine goes great with dinner :-)
4 slices french bread or baguette, cut into 1 inch cubes
2 cups grated Gruyere cheese
In a large stock pot or dutch oven, add 2 tablespoons of olive oil and the butter over medium heat. Once the butter has melted, add onions, thyme, 1/2 teaspoon of salt. Stir and then partially cover. Cook 15-20 minutes or until the onions are a golden brown and tender.
Add the wine and simmer until reduced by half, about 5 minutes. Add the stock, water and soy sauce. Bring to a boil and then reduce heat to a simmer and cook for 20 minutes.
Heat a small saute pan and add 1 tablespoon of olive oil. When hot, add bread cubes. Stir them around until toasty and slightly browned. Remove from heat.
Preheat your broiler. In a small bowl, stir cornstarch and 1-2 tablespoons of soup liquid from the pot. Mix well and then pour in to soup and simmer 2 minutes. Add 1/2 teaspoon of pepper and taste for salt. Ladle soup into heat proof bowls. Add bread cubes on top of soup and top each with 1/2 cup cheese. Broil 1-2 minutes or until cheese is melted and golden brown. Serve hot. Serves 4
Print Recipe