Where does the time go? Can you believe summer is almost over and it's time for orange sweaters, knee-high boots, Halloween candy, leaves falling from the trees and cool days?
I love the fall but I'm still relishing the last few weeks of summer and warm weather. It seems summer came late this year. We've had more warm evenings in September than in August which is definitely unusual.
Here is a dish to celebrate the end of the summer. It's delicious and you'll like vegetables that you normally don't like when they're in this dish. Trust me on this one. If you have summer vegetables you need to use up like corn, zucchini, yellow squash, or tomatoes, I urge you to give this one a try. You can leave out what you don't like and add in ones that you do...the kitchen is your canvas.
This dish is great for leftovers. Serve with chicken, fish or any meat for that matter. You could add a salad or just have this, either way you'll have a very nice meal.
I used a seasoning in this dish called Nature's Season Seasoning. My mom and I have used this seasoning for a long time on vegetables and it's really good. It adds flavor and wakes veggies up. We have always been able to get it at the grocery store. If you don't have it for this dish, just use salt and pepper.
I urge you to season each layer of your dish with salt and pepper. It adds so much flavor when dishes are seasoned properly. If you cook this way, you won't need to put salt and pepper on the table because everything will already be seasoned perfectly.
Slice your squash in 1/4 inch slices.
Layer your buttered dish with the squash.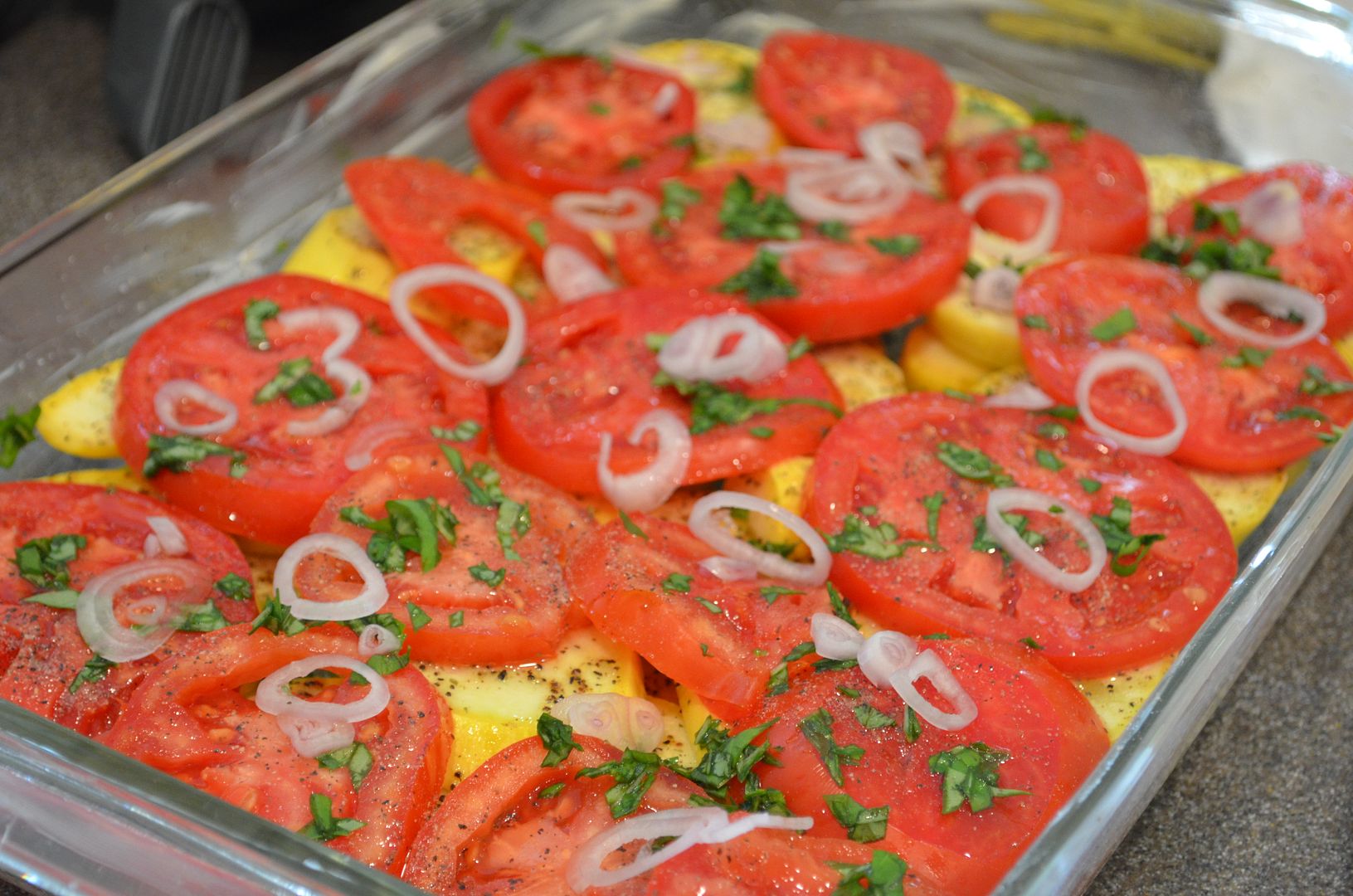 Add sliced tomato, shallots and basil.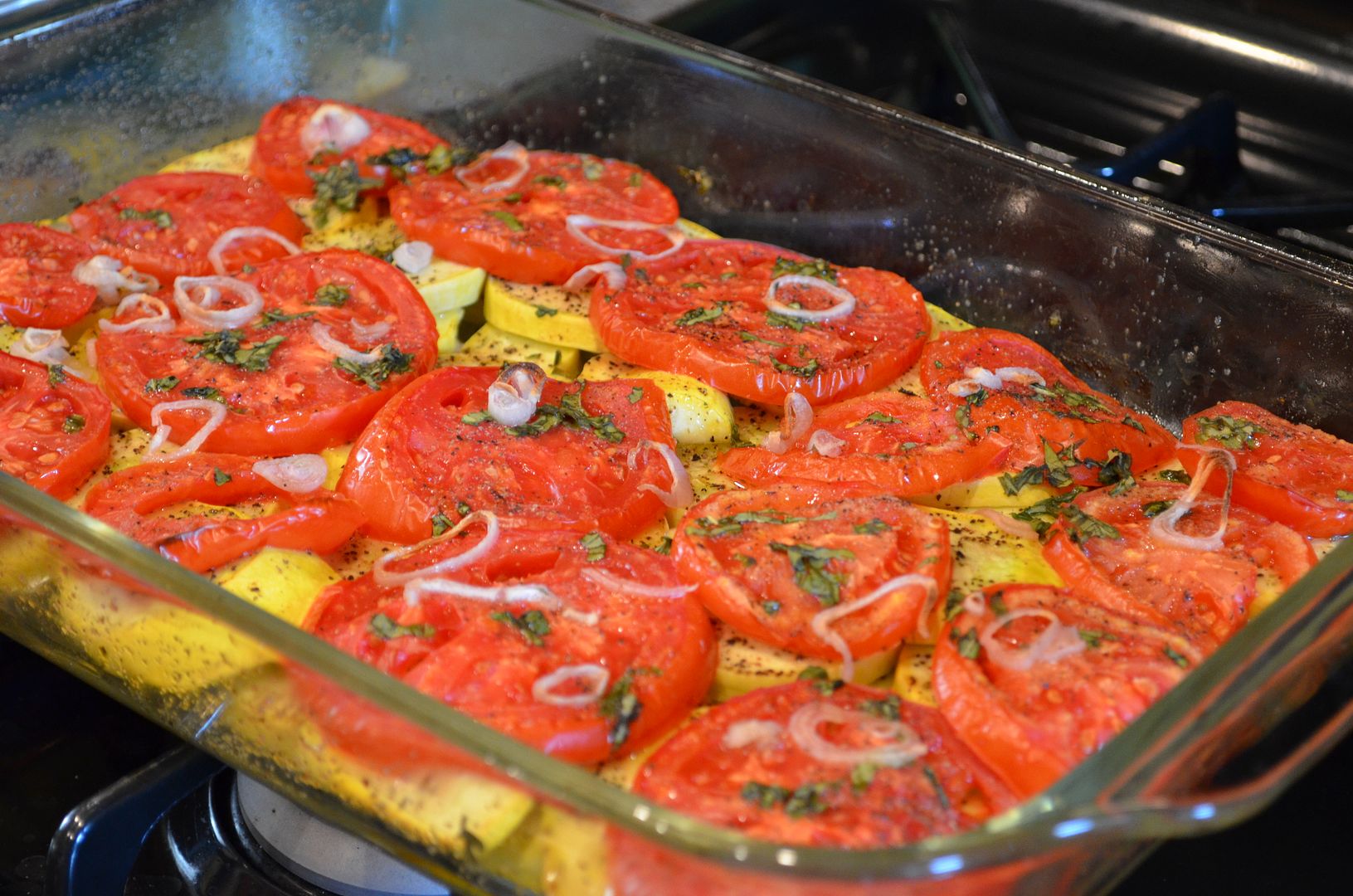 Add the rest of the ingredients - cheese, egg and more fresh tomatoes, basil. Bake!
Goodness right out of the oven. Let it sit and cool a bit and then serve...yum.

Cheesy Vegetable Gratin
1 lb. yellow squash or zucchini, cut into 1/4 inch slices
1 lb. ripe tomatoes, sliced 1/4 inch slices
1/2 onion, sliced (I had shallot on hand so used this)
1 teaspoon Nature's Season Seasoning
1 tablespoon butter
1 1/2 cup whole milk (to make it lower in carbs, I used cream and omitted the cornstarch)
5 ears of corn, with the kernels cut off or 1/2 bag of frozen corn.
1/4 cup chopped fresh basil
3/4 cup Panko breadcrumbs (or regular breadcrumbs will work)
3/4 cup shredded extra-sharp Cheddar cheese
1/2 cup shredded Mozzerella cheese
Preheat over to 400 degrees. Butter a 9x13 baking dish. Add a layer of squash, overlapping if necessary. Add half of the tomatoes layered on top of the squash and then the sliced onion. Drizzle with 1 tablespoon of the oil. Sprinkle with the Nature's Season or salt and pepper. Add half of the basil. Place in the oven for 25 minutes.
In a large bowl, whisk milk, cornstarch, and salt and pepper. Whisk in eggs. Mix well.
In another bowl, combine panko, 1/4 cup of cheddar, salt and pepper, and remaining basil and oil. Mix well to combine.
After veggies come out of the oven, sprinkle remaining cheeses over the roasted vegetables. Top with corn. Pour milk mixture over it all. Add remaining raw tomatoes. Sprinkle with the panko mixture.
Bake 25 to 30 minutes or until browned and a knife inserted in the center comes out clean. Cool 10 minutes and then serve.
Serves 12 or 6 if served as a main dish.
Adapted from Good Housekeeping