Last month I signed up to do "The Great Food Blogger Cookie Swap" with more than 200 other blogs. It was organized by
Love and Olive Oil
and
The Little Kitchen
. I had to make three dozen cookies, send a dozen to three randomly selected food blogs and three randomly selected blogs sent me each three different types of cookies. Fun, huh! About two weeks ago I started getting my cookies in the mail and all of them are really delicious. Here are a few pictures and links to their blogs.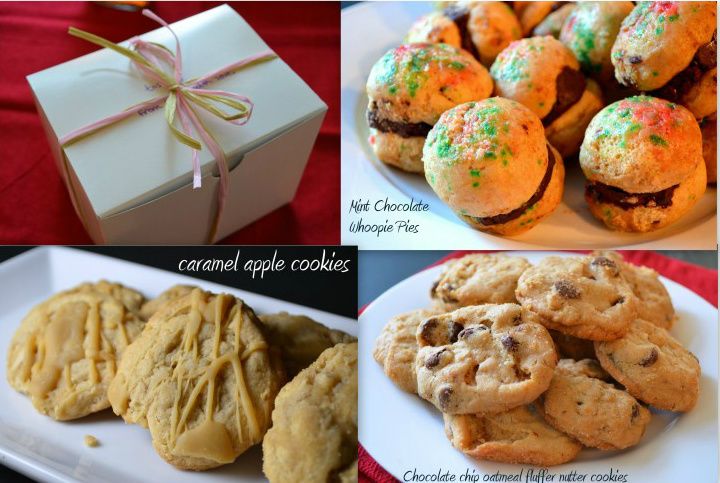 Chocolate Chip Oatmeal Fluffer Nutter Cookies from (TBD)
For my cookie swap recipe I decided to make Christmas cookies which are a nut and fruit cookie. The recipe comes from my grandmother. She made them a long time ago for us and I had never forgotten how good they were. Don't shy away from making these because of the ingredients. They are a simple butter cookies, not to sweet but a very tasty treat especially with coffee or tea. The fruit gives them a mild sweetness but you can't really tell what it is. And they're so pretty! Keep in mind you can leave out the nuts, change them up (same with the fruit - use what you like) and even better, you can keep these in a roll in your freezer and just slice and bake when you need them.
I shipped my cookies off on December 5th to these fellow bloggers.
On Thursday, December 15th you'll be to see a list of all the cookie recipes in the swap on Love and Olive Oil and The Little Kitchen.
Christmas Cookies
1 lb unsalted butter, room temperature
1 cup brown sugar, packed
1 cup candied cherries, finely chopped
1 cup candied pineapple, finely chopped
1 cup dates, finely chopped
1 cup pecans, finely chopped
1 cup walnuts, finely chopped
1 cup hazelnuts, finely chopped
1/2 cup Turbinado Raw Sugar
In a large mixing bowl, using a stand mixer or beaters, combine the butter, sugars, vanilla, salt and eggs. Add the fruit and nuts and mix well. Combine flour with baking soda and mix well. Gradually add flour mixture to wet ingredients. Using plastic wrap, shape into 2-3 inch wide rolls. Place in refrigerator and chill for at least an hour. When chilled, remove plastic wrap and slice in 1/2 inch cookies. Sprinkle with turbinado sugar. Heat oven to 350 degree and bake for 10-12 minutes. They'll be nice and soft if you remove them before they get brown. Can be frozen and will keep for months. Makes 10 dozen.
Print Recipe