I'm in Minneapolis this week, working so this post may be shorter than usual. I wanted to get this recipe out though because these pancakes are sooooo goooood! They literally melt in your mouth and with the blueberries on top...well you know. Amazing. I encourage you try them.
I've been wanting to make ricotta pancakes for a long time now. I've seen them made several times but had never tried them. I just thought they sounded interesting. I'll be making them often now.
The key here is to beat the egg whites until stiff and then fold them into the batter. This keeps the batter really light. Also, if you're cooking up the whole batch, keep them warm in a 200 degree oven until ready to serve.
Minneapolis is cold around 40 today. My mom said that LA is supposed to be 90 degrees if you can believe it. I don't mind it though - it's not like I'm outside much while I'm here. I've got a great hotel with a little kitchen in it so I can make dinner for myself. Right now these pancakes sound pretty good!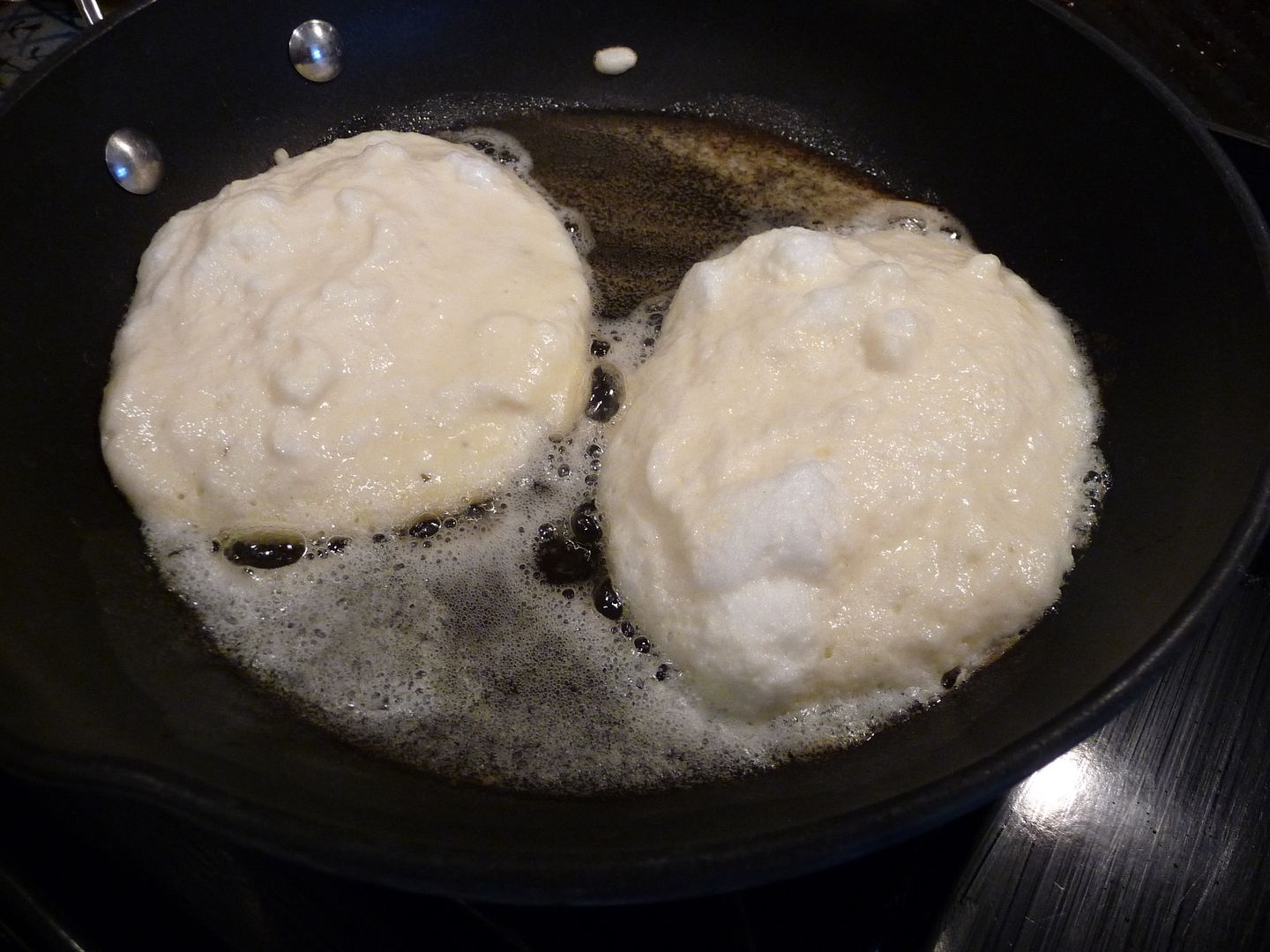 Ricotta Pancakes with Homemade Blueberry Syrup
1 cup ricotta cheese
3 eggs, divided
3/4 cup milk
1/2 teaspoon vanilla
1/2 cup flour
1/2 teaspoon baking powder
1 1/2 tablespoons sugar
pinch of salt
1. If your ricotta is soft and wet, place it in a strainer and let it drain for about 30 minutes. If it's dry, omit this step.
2. In a medium mixing bowl, whisk your flour, baking powder, sugar and salt together.
3. In another bowl, combine your ricotta, egg yolks, vanilla and milk.
4. Beat the egg whites separately until they form stiff peaks.
5. Add the flour mixture to the ricotta mixture and still until just combined.
6. Add half of egg white mixture and stir in gently. Add the remaining egg whites and gently fold these into the mixture. Do not over mix.
7. Heat a large frying pan or griddle over medium heat. Add 2 tablespoons butter (I added a bit of coconut oil too just to keep the butter from burning) and when melted, add 1/3 cup of batter for each pancake. Cook until brown on the bottom and then flip to the other side until brown. You may need to adjust the heat of the pan so they cook through before you flip them. To keep them warm while you are cooking up the batch, put them in a 200 degree oven.
8. When serving, add pancakes to a plate, squeeze 1/8 wedge of lemon over pancakes. Sprinkle with powdered sugar and serve blueberry sauce on the side.
Blueberry Syrup
1 cup blueberries
1/4 cup water
2-4 tablespoons sugar (depending on how sweet you like it_
1 lemon, zested
Add all ingredients to a saucepan and bring to a boil. Let cook 2-3 minutes until blueberries start to breakdown and the mixtures becomes thicker.
Print Recipe