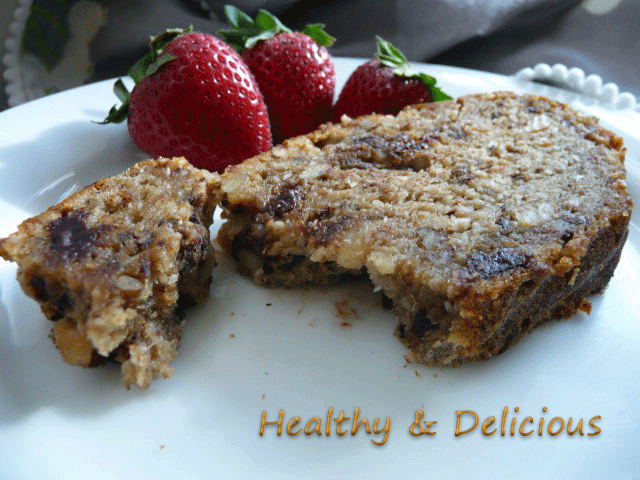 I always have overripe bananas in my freezer. I don't know about you but I can never eat all of the bananas before they go brown. I end up putting them in a Ziploc bag and freezing them for when I need them. They come in handy if you want to make something with bananas and the more ripe they are, the better.
Lately I've been experimenting with coconut oil, whole wheat pastry flour and sugar substitutes. You could eat this anytime of the day and not feel guilty since it's low in carbs. It's really nice warmed up with a pat of butter - only if you feel like indulging though. Once the loaf is cooled, I slice it and put it in the freezer. Then I can take a slice or two out anytime and warm them up in the microwave.
There is a lot of buzz about coconut oil lately and the health benefits it provides. It's great for baking or sauteing and it keeps this bread nice and moist. Feel free to experiment with this recipe. If you don't like nuts or chocolate you can leave them out. I hope you enjoy it!
Chocolate & Banana Coconut Bread
2 cups whole wheat pastry flour
2 teaspoons baking powder
6 tablespoons Coconut Oil
8 tablespoons brown sugar or sugar substitute (I used Erythritol)
3 medium-sized ripe bananas
1 teaspoon vanilla extract
1/2 cup unsweetened coconut flakes
1 cup of chopped mixed nuts, toasted (I used cashews, almonds, and walnuts)
2/3 cup semi-sweet or dark chocolate chips
Preheat your oven at 350 degrees. In a large bowl, sift together the flour, baking powder, baking soda, and salt. Set aside. Using an electric mixer, cream together the coconut oil and sugar. Add in the bananas, the milk and vanilla. Mix for another 2 minutes. The batter should be smooth.
Next, add in the dry ingredients, one tablespoon at a time, mixing well before adding the next. Fold in the chopped nuts, chocolate chips and the coconut flakes. Bake for 1 to 1 1/2 hours in a greased loaf pan or until a toothpick inserted in the middle of the loaf comes out clean.
Print Recipe