First of all I want to say we are sorry we haven't posted any recipes for the past few months but we are back.

Amy came for a visit a few weeks ago and we had such a good time. We spent time in the kitchen as well as just catching up with everything going on in her life in Northern California and ours in Southern California. Even though we talk each week and text daily, we always have so much to catch up on when we visit. It is a non-stop talk fest.
It is wonderful to have a daughter that loves the same things as I do. Both of us eat, sleep and drink food either with cookbooks, food magazines, family recipes, and TV. Then there is each of our own collection of recipes plus if that isn't enough, I am into the Cozy books that also have recipes. So needless to say, I have a rather large collection of cookbooks that are slowly taking over the whole house. By the way, I have a daughter-in-law and son that are right there with us. They are both great cooks and enjoy the planning and cooking of delicious food as well. When we have family get- togethers, we have a blast.
My husband and I both are working on genealogy for each of our families. We happened to be talking when Amy was here about her great grandfathers and what her dad remembered about him. When he was growing up, his grandfather lived in a small town about 20 miles away. Amy's dad grew up on a potato farm in Idaho. He talked about how he went to visit his grandma and grandpa on Saturdays and how they would usually take a bag of potatoes with them for his grandparents. They would spend the day in town where his mom would get the groceries for the week along with any other shopping they needed. His grandpa would usually give him a nickel for penny candy. On occasion they would stay for supper before returning home that evening. His grandpa would take some of the big russet potatoes and make french fries with them. It was always such a treat for him, and his grandpa loved making them. Of course he would pull out the ketchup and then they would all enjoy his home cooked fries. His grandpa did this for many years. It is one of many wonderful memories he has of his grandfather.

While Amy and her dad were talking, I happen to think that we had some of those Idaho russet potatoes. My husband's brother and wife had brought some to us when they visited a few weeks prior. They are the most wonderful russets, straight from the farm...they are huge in size and perfect for french fries. So this is how we came about making french fries on Amy's visit. They are crispy with just the right amount of saltiness...and go really well with a rib-eye steak which we enjoyed that night with our frites. Amy and I both thought it was the perfect recipe to share with you.
We recommend everyone that has elderly family or young ones to talk about your memories of family around the dinner table or anytime you are sitting and enjoying each others company. It is amazing what a great time you can have as well as actually learn something about your family history. If you're as lucky as we are, maybe share some recipes as well.


French Fries
4 large 4"-6" russets. If they are med or large they usually are the same size across just not as long as the large ones.
2 quarts Grapeseed Oil – I used this since it was what I had on hand. Use whatever oil you prefer.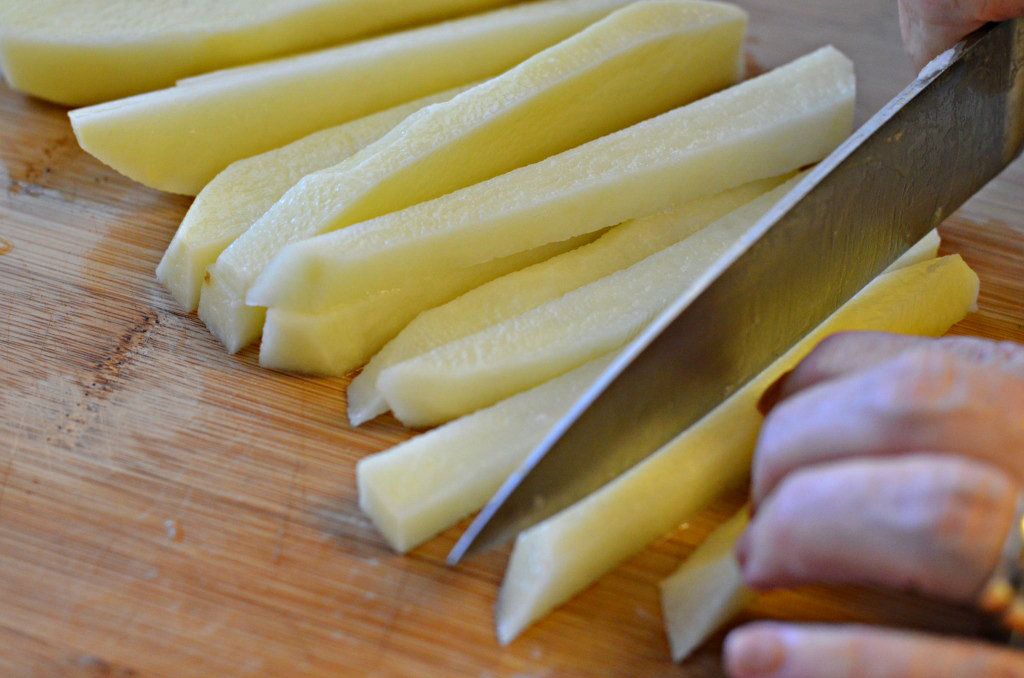 Cut potatoes in half, then in quarters, then each quarter into half inch thickness. If some potato lengths are a little smaller in width once they are cooked they end up being the real crispy ones that everyone loves. As you cut them, add them to a bowl of cold water. This will prevent them from turning dark in color.
Heat your oil up to 325 degrees. When it is about time to put the potatoes in the oil take a handful out of the cold water and drain them on a clean kitchen towel, pat them dry with the towel. This will take off the water that could cause the oil to splatter up on you. DO NOT PUT THE WET FRIES DIRECTLY INTO THE OIL. Once the wet potatoes are patted dry, carefully put them in the oil. Do not add too many at one time...just a handful so you don't bring the temperature of the oil down which may cause them to be greasy.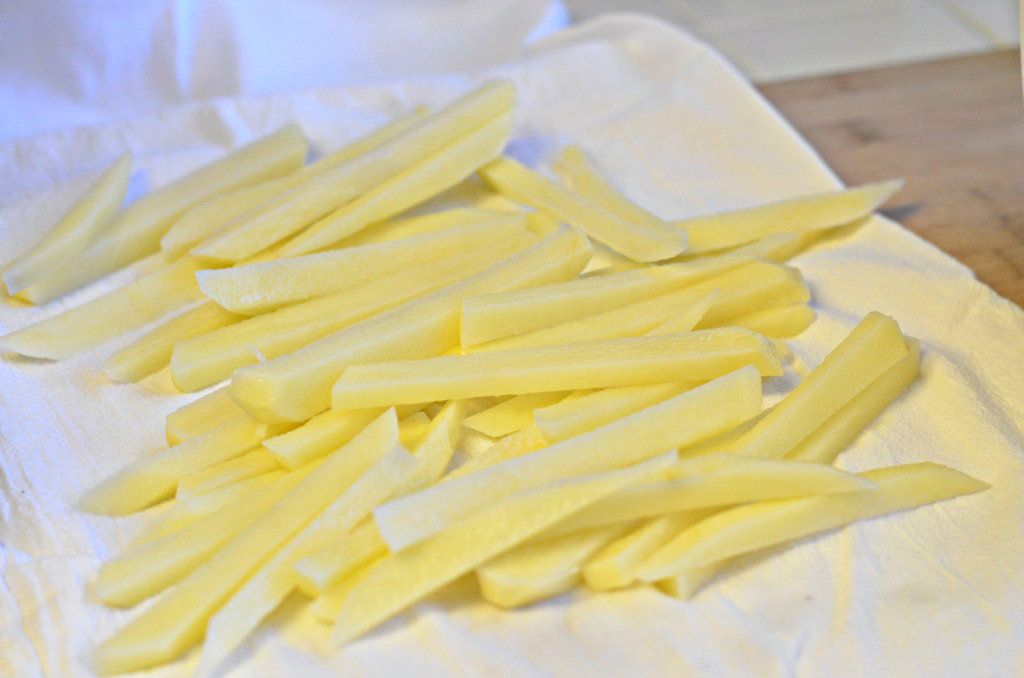 The cooking time is approximately 10 minutes or until cooked through. You're not looking to brown them at this stage, just cook the potato. Take out when done and put on top of a paper towel to drain. Repeat the process until all the fries are cooked. Make sure your oil stays as close to 325 as possible.
Once you have them all done and just before you are ready to eat turn up your oil. When your temp gauge says 375 degrees put some of the potatoes back in for 5-10 minutes or until brown and crispy. Sprinkle with salt as you take them out. Delicious!!
Just be careful heating up the oil. You should never leave oil on the stove while it is heating.
Serves 4-6
Recipe Courtesy of Grandpa Baker