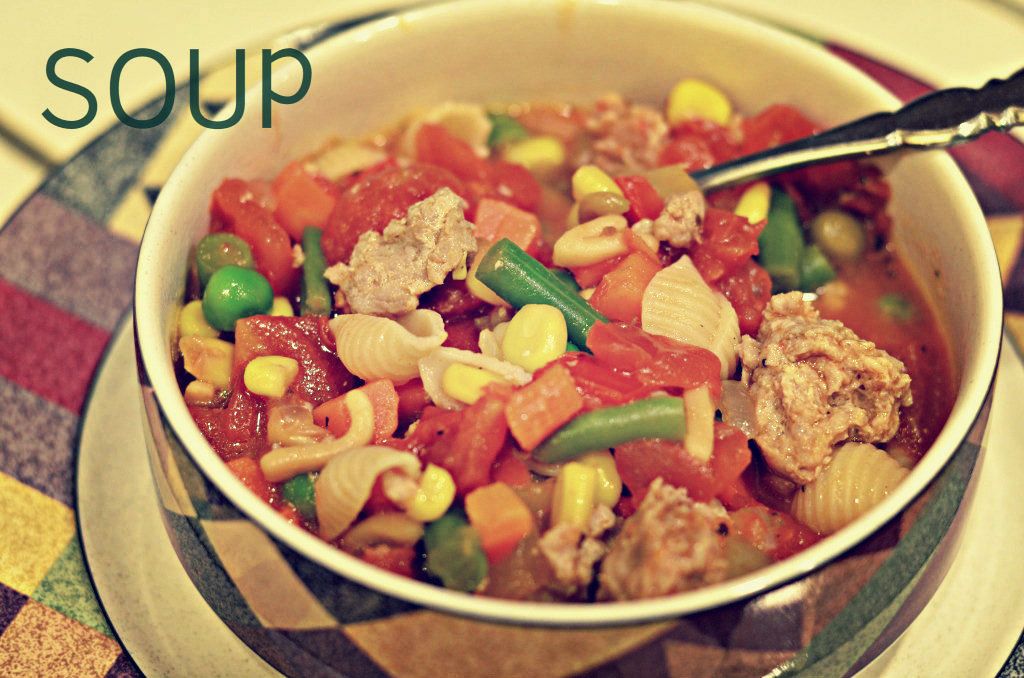 I decided to use the vintage look on this photo since the recipe is vintage.
This comes from my dearly departed and sorely missed grandmother. For the longest time she called it Spanish Goulash but as it became a family favorite and because she made it so often, she renamed it Thomas Goulash which is much more fitting (Thomas was her last name).
It's heartier than a soup but lighter than a stew. Perfect for a weeknight meal because it's easy, delicious and will warm your belly. My cousin loves this so much that whenever he would go visit my grandma, he would request that she make it. We all feel the same way. Obviously mine is missing my grandmother's touch but it still brings back memories of her and of growing up when my mom would make it. I think that is what makes some recipes so special, the special memories that they conjure up when you bite into something you have shared with others you love.
Again as with many of my recipes, you'll wonder when you see the ingredients how this could be good, but hopefully you have come to trust me on this when I say, just try it, I know you'll love it. It's good on its own but you can always slice up some nice warm bread or get out the saltine cracker's to serve with it.
Thomas Goulash
2 red, green or yellow pepper chopped
1 small onion, chopped
1 pound hamburger or ground turkey
1 cup small shell macaroni
1 28oz can tomatoes (can use diced or whole) or 2 - 14oz cans of diced tomatoes with basil, oregano and garlic
1 16 oz package of frozen peas, carrots and corn
2 cans (10 1/2 oz) Campbell's Condensed Vegetable Soup (w/alphabet), not beef
1 teaspoon garlic salt
1 tablespoon sugar
salt and pepper
In a large saute pan, add the onion, peppers and hamburger/turkey. Season with salt and pepper. Cook until meat is done. Drain off any fat.
In a large soup pot over medium heat, add the tomatoes, frozen vegetables, vegetable soup, garlic salt and sugar. Taste and add salt and pepper if needed. Add meat mixture to soup. Stir to combine. Cover and let simmer.
In a small saucepan, heat water and cook macaroni until al dente - follow box instructions. When done, drain and add to soup. Mix well and taste for seasoning. Add salt and pepper if needed. Serve hot.
Print Recipe