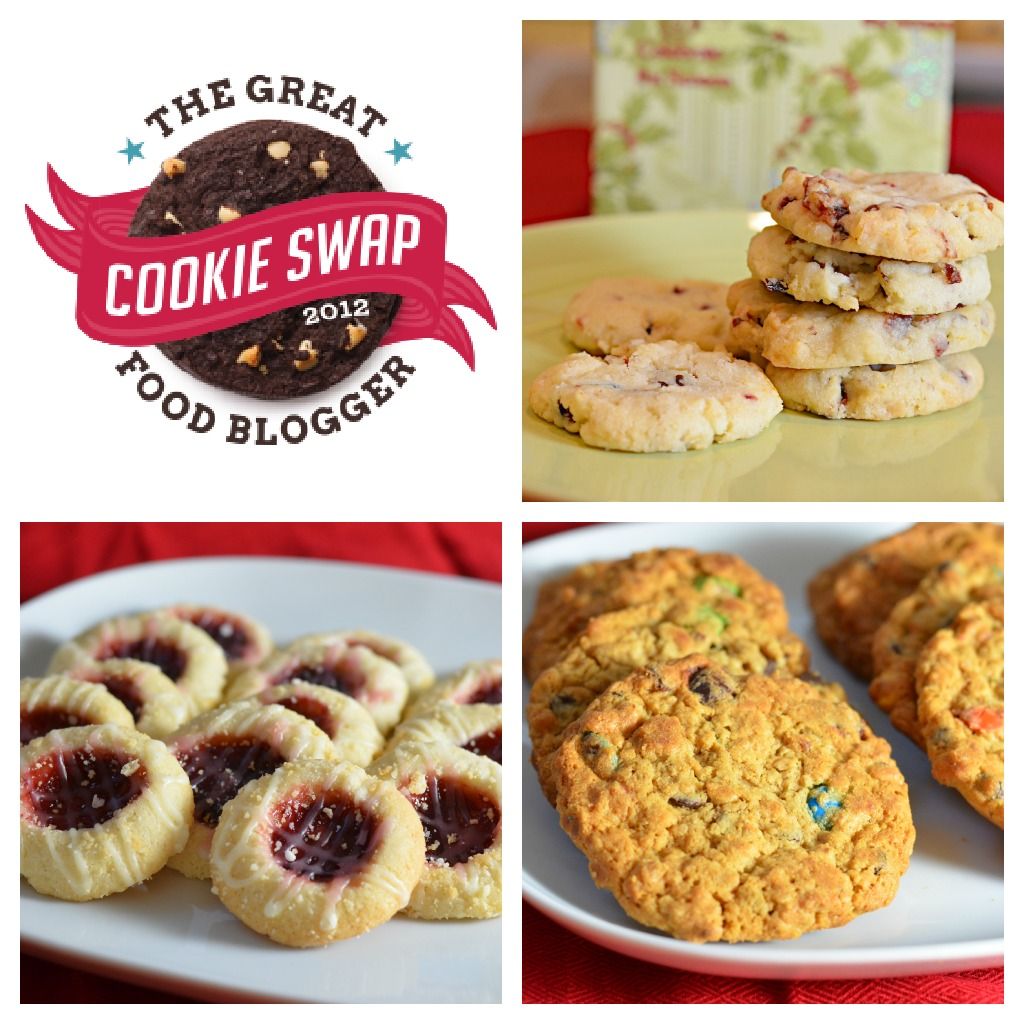 It's that time of year again for
The Great Food Blogger Cookie Swap
. Everyone is given three blogs to ship cookies to and each blogger receives cookies from three different blogs. I received cookies from
Saucy Mouth
(bottom right),
Full on Food Lust
, and
Saving Room for Dessert
(bottom left). I sent Chewy Coconut Cranberry Cookies to
Semi Sweet Designs
who makes the most beautiful cookies,
Toffee Bits and Chocolate Chips
, and
Simply Fresh Cooking.
Check them out. They are all wonderful food blogs.
Hope your holiday season is going well and isn't too stressful. It seems this time of year everything gets a little crazier, especially the to-do list. I'm a little behind but I'm not stressing about it to much. I figure it will all get done. Hopefully on time.
This was a new recipe for me. Not my favorite cookie but a good cookie and seems to go well with the season. I got this cookie out of an old Sunset magazine and it won first place in their cookie contest. My favorite cookie would have to be Snicker Doodles. I can't make them though or I would eat them all. I base my likeness level on how hard they are to resist.
Chewy Coconut, Cranberry Cookies
1 1/2 cups room temp butter
1 tablespoon orange zest
2 cups sugar
2 teaspoons vanilla
3 1/4 cups flour
1/4 teaspoon salt
1 teaspoon baking powder
1 1/2 cups dried cranberries
1 1/2 cups sweetened flaked dried coconut
Heat oven to 350 degrees. Combine butter, sugar, orange zest, and vanilla in a large bowl and mix until smooth. In a smaller bowl, combine flour, baking powder, and salt. Mix with a whisk. Gradually add flour mixture to the butter mixture until it comes together. May take a couple of minutes. Shape dough into 1 inch balls and place about 12 on a greased cookie sheet. I flattened my a bit with a spoon. Bake 10-12 minutes or until the edges of the cookie are slightly brown. Let cool on cookie racks. Make 6 dozen.
Recipe from Sunset Magazine
Print Recipe