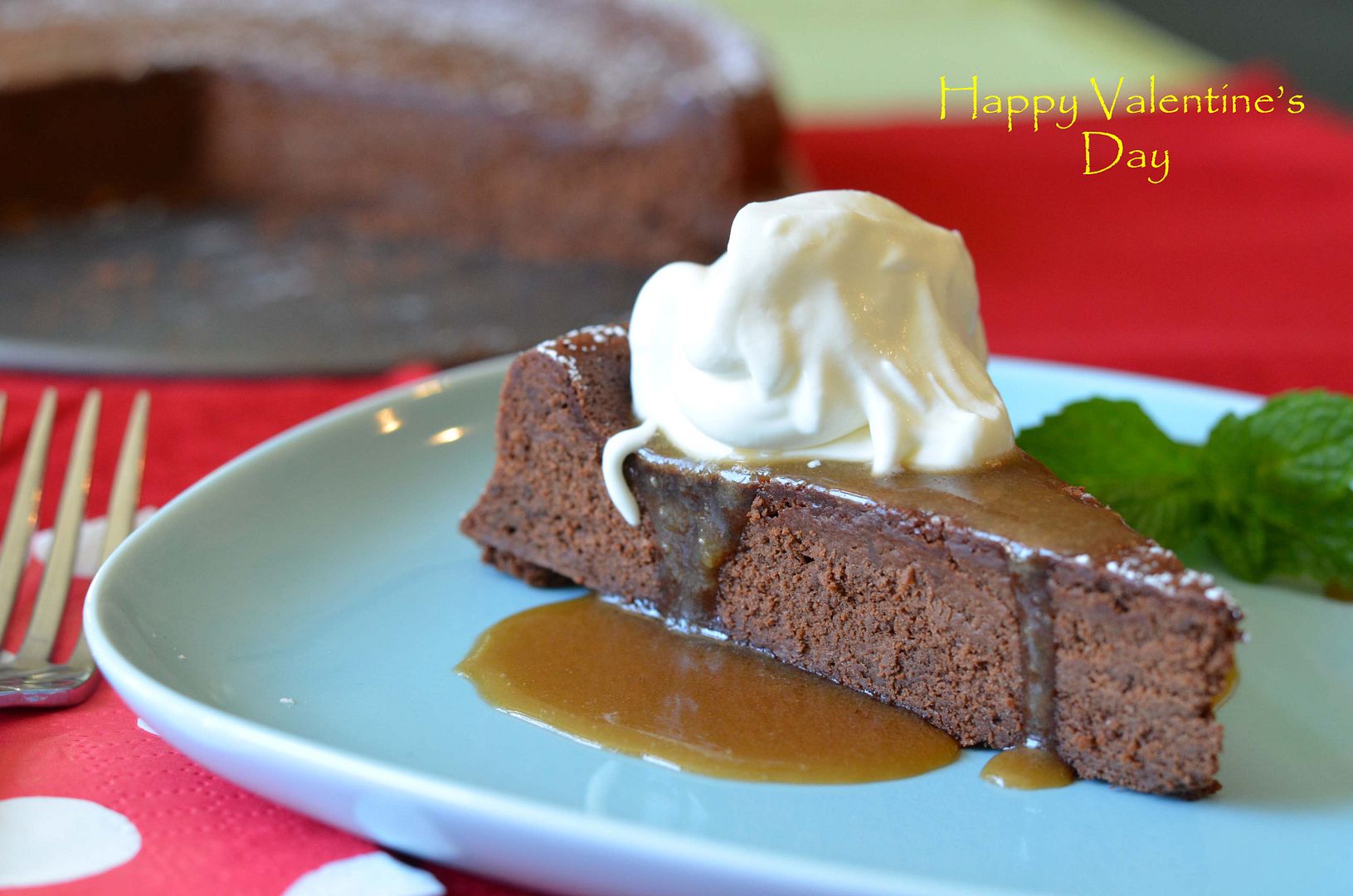 Happy Valentine's Day! I was trying to get this recipe posted early so you could possibly make it for your special someone but here I am...a little late. You can enjoy this cake any time though. If you love chocolate, you'll love this cake. The easy caramel sauce and whipped cream take it over the top.
My husband surprised me with pink roses and a card this morning which was a nice way to start the day. I've learned not to have to many expectations on Valentine's Day. It's safer that way and then whatever happens, it's always a nice surprise. I'm very lucky to have someone special to share the day with.
I have my family visiting this coming weekend so I'm busy cleaning and planning a menu. It's challenging to go from cooking for 2 to 8, but one that I enjoy. I'm trying to find things I can make ahead and pull out of the freezer and cook. We'll see how it goes. I'm looking forward to having them all here - can't wait!
Butter a 9 inch spring form pan like the one above.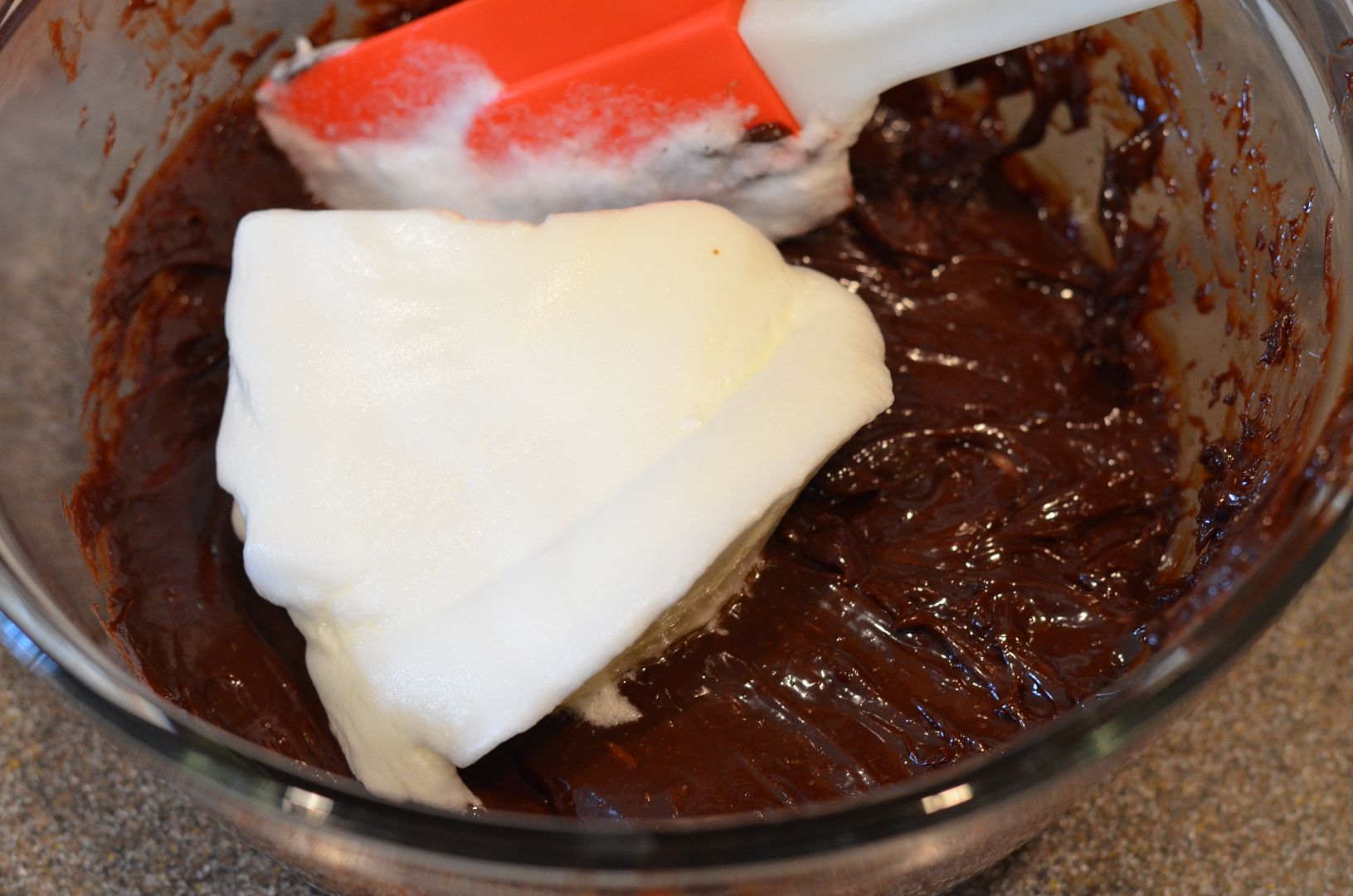 Stiff egg whites being folded into the chocolate mixture.
Flourless Chocolate Cake with Caramel Sauce
6 tablespoons butter, plus more for pan
8 ounces bittersweet chocolate, chopped
1/2 cup granulated sugar (can use a sugar substitute)
1 teaspoon espresso powder
Confectioners' sugar, for dusting the cake
1 cup heavy whipping cream
1 cup brown sugar

pinch of salt

Preheat your oven to 275 degrees with the rack in the center of the oven. Butter the bottom and sides of a 9 inch spring-form pan.
Microwave the butter and chocolate for 30 second intervals until melted. Stir each time so you don't burn the chocolate. Whisk in egg yolks, stirring constantly so you don't scramble the eggs.
In a small bowl mix together sugar, espresso powder and cinnamon. In a larger bowl, whip the egg whites until soft peaks form. Gradually add the sugar mixture until stiff peaks form. Stir in a quarter of the egg whites into the chocolate mixture. Then gently fold in the rest of the egg whites.
Pour the batter into the pan. Bake until the cake pulls away from the sides and it's firm on top, about 45-50 minutes. The top may crack which is normal. Cool completely on a wire rack. Remove sides of pans. Serve at room temperature, dusted with confectioner's sugar and a dollop of whipped cream. Adapted from Martha Stewart
To make the whipped cream, add 1 cup of cream to a very cold medium size glass bowl if you have one. I put the glass bowl and beaters into the freezer for a few minutes before. Start beating the cream. When it starts to thicken, add 2 tablespoons sugar and 1 teaspoon vanilla. Keep beating until set but don't go to far or you'll have butter.
Easy Caramel Sauce
Add everything but the vanilla to a saucepan. Cook on medium to low heat until it's well combined and thickens slightly, 5-7 minutes. Remove from heat and add the vanilla. Can store this in the refrigerator. Adapted from the Pioneer Woman