Happy New Year! I am finally getting back into cooking mode. I think I ate so much good food over the holidays that my taste buds were spoiled.
I had such a great holiday. We did our usual which was to go up to my brother's place in southern Oregon. The weather was beautiful, probably the warmest Christmas we've ever had there. Both my brother and sister-in-law are terrific cooks and we eat REALLY well. It's all about food, laughter and just hanging out together.
On New Year's Eve, we decided to do drinks and appetizers. My sister-in-law made
Oysters G-Feller
which were amazing. We also made
Olive Crostini
,
Armadillo Eggs
and Buffalo Chicken Wings. Talk about delicious...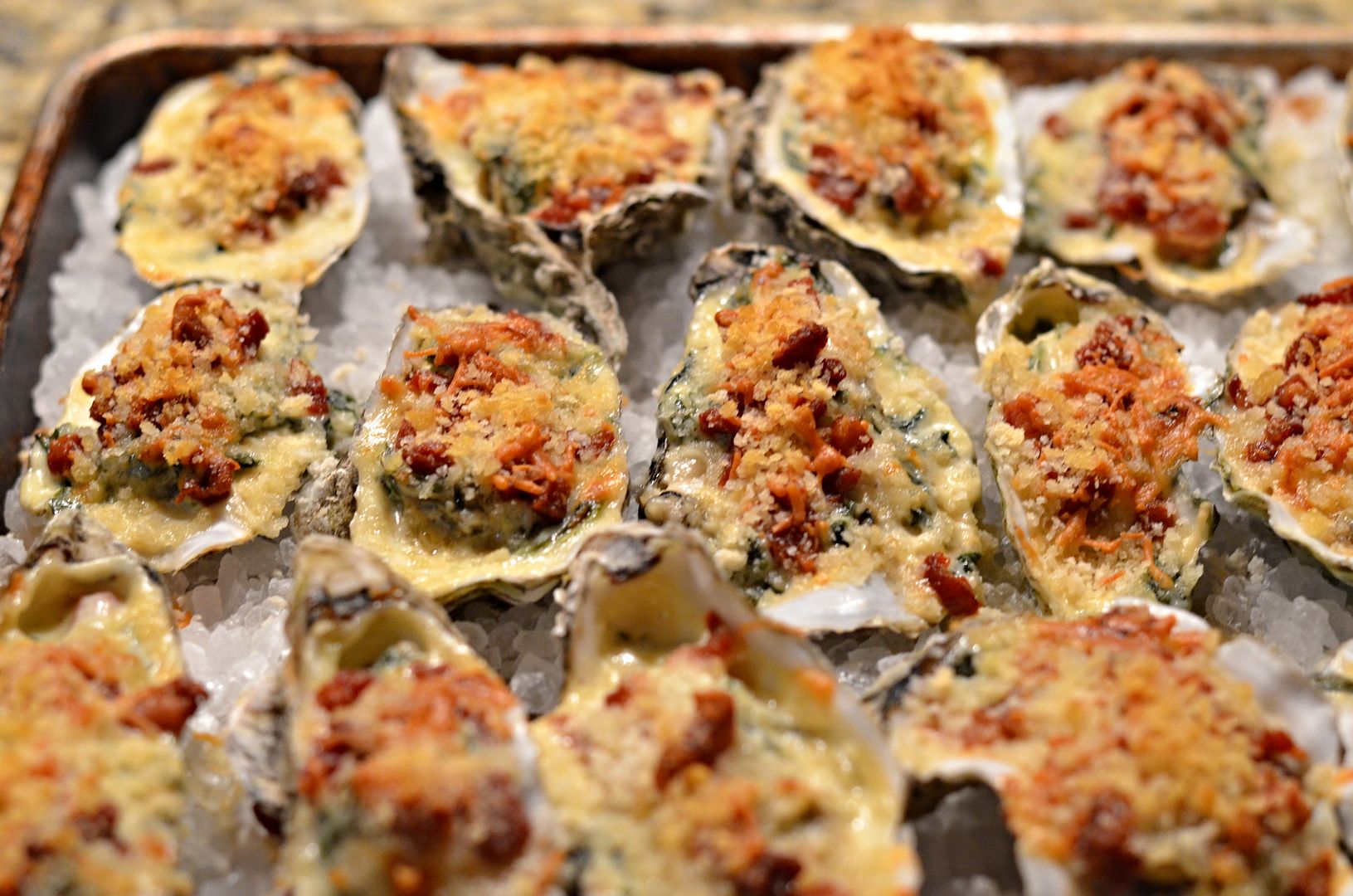 On New Year's Day, we had our customary Fried Wontons. Someday I'll share this recipe with you because it is amazing and something we all look forward to indulging in each year. It's a family thing as we set up a wonton assembly line and all make them together. Believe me, this saves a lot of time.
They also did a smoked pork shoulder and a Virginia ham, among other things. Let's just say, we were pleasantly stuffed the whole time we were there.
Back to the recipe at hand. I have tried several stuffed pepper recipes and haven't been a fan of any of them. I saw this one on TV the other day and thought it sounded interesting. It's actually really good and the turkey meat stays moist from all the veggies which your kids will never know are there. Assuming you can get them to eat a pepper. :) I served it with a yummy greek salad. Something I could eat everyday. Here's the recipe...enjoy!
Turkey & Vegetable Stuffed Peppers
Greased 8.5x11 Baking pan:
5 red, yellow, orange peppers, cut in half and seasoned with salt and pepper
Food processor:
1 large carrot, peeled and cut into one inch pieces
2 ribs of celery, cut into one inch pieces
1 medium sized zucchini, cut into one inch pieces
1 leek, cut into one inch pieces
2 garlic cloves, peeled and smashed
1 teaspoon dried oregano
1 teaspoon salt
1/2 teaspoon pepper
Small bowl:
3 slices of regular white bread or gluten free bread
1/2 cup milk or half-n-half or almond milk (plain) or coconut milk or half water/half cream
Large bowl
:
1 large egg
1/2 cup Pecorino Romano Cheese
1 lb. ground turkey or beef
Other:
1/3 cup white wine
2 tablespoons clarified butter or oil
Instructions:
1. Preheat oven to 400 degrees.
2. Spray your baking sheet with non-stick cooking spray and place your seasoned peppers, cut side up.
3. In a small bowl, add your bread and milk and let it soak for 15 minutes. As the bread softens, use your hand to break up the bread into small pieces.
4. Add all veggies and spices to your food processor, pulse until well mixed.
5. Heat a saute pan and add 2 tablespoons of oil/clarified butter. Once hot, add your vegetable mixture. Cook for 5 minutes until hot and then add wine. Cook mixture for a few more minutes or until the wine is fully absorbed into the mixture. Remove from heat and let cool.
6. In the large bowl with the egg, turkey and cheese, add the cooled veggie mixture, and soaked white bread. Use your hand to mix well.
7. Fill each pepper with turkey mixture. Sprinkle tops with a little more cheese and drizzle with olive oil. I also sprinkled with salt and pepper.
8. Bake for 50 minutes or until the internal temperature reaches 165 degrees.
9. Serve! Great as leftovers.
Adapted from Giada De Laurentiis
Print Recipe